Visto en Instagram: La casa de Mallory Fletchall, creadora de 'The Reserve'
¡Alerta deco! Si eres fan del estilo vintage y artesanal, necesitas conocer esta tienda online.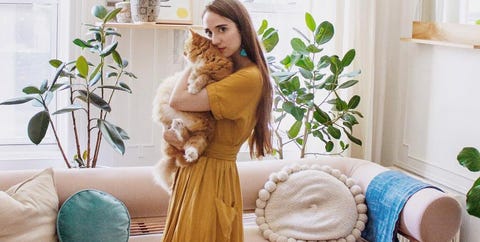 Puede que su nombre no te suene, pero si te gusta la decoración de estilo vintage y artesanal, te presentamos a la que se convertirá en tu nueva musa particular: Mallory Fletchall. La joven estadounidense nacida en Kansas es la creadora de The Reserve, una tienda online especializada en textiles y accesorios como alfombras, cojines o pufs, todos ellos tejidos a mano con telas provenientes de pequeños pueblos marroquíes.
Además de la tienda, Mallory también trabaja como diseñadora de productos e interiorista, y vive junto a su pareja, el artista David Rhoads, y sus dos gatos, en una casa de Brooklyn que es pura inspiración. Cada espacio de la vivienda es un showroom que muestra la belleza de los productos disponibles en The Reserve, y que Mallory enseña con orgullo en sus redes sociales. A continuación, ¡te mostramos una selección de los rincones más bonitos que hemos encontrado en su cuenta de Instagram!
This content is created and maintained by a third party, and imported onto this page to help users provide their email addresses. You may be able to find more information about this and similar content at piano.io